Time flies, memories will be forgotten, but photos will not. That is the reason that photographers are always needed in any big event, especially weddings. Hence, you should plan well with your photographer in deciding which moment or process that must be captured to commemorate to prevent any miss out. If you do not have any ideas, here we list out the essential wedding photos that you must have for your wedding.
The Preparation Moments
The newlyweds will start their preparation in the early morning and typically hair and makeup would take the longest time.
All this preparation progress could take some candid pictures as a memorable memory. For instance, the bridesmaid helps to button the back of the bride 's dress.
The First Look
The first time the groom sees the bride will bring a touching and emotional moment which cannot be missed by capturing.
There are also some couples who prefer to have a private "first look" before the ceremony to get rid of nervousness.
No matter if it is before or during the ceremony, that precious moment would be the essential wedding photos that you must have.
The first look photo is not just for couples but also between the newlyweds and their family.
The Processional
It is extremely unique when a bride's walk down the aisle.
Many of the guests will be seeing the bride for the first time in her beautiful dress. For the bride, it's all about those unique steps she takes in the direction of her future spouse.
Thus, most of the brides would request their photographer to capture this significant moment.
The first Kiss
The most exciting moment would be the first kiss as a married couple because it is a sweet and romantic moment for the couple.
Hence, this first kiss moment must be captured in order to record the heart-warming scene.
The Group Photo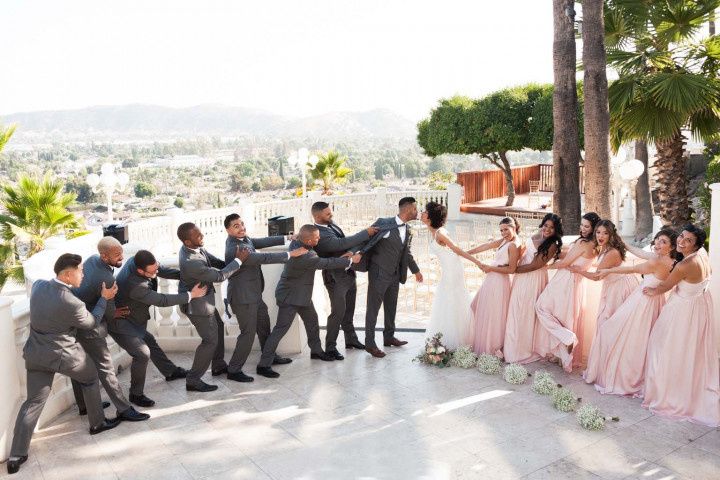 Of course, you could not miss out on having a photo with your family and bridesmaids or groomsmen.
They are those who help you from the day you start your wedding planning until the exact day of the wedding day.
Take the photos in a funny way to record the happy moment in a special way.