There are actually many wedding favors that you can choose to put on the favor tray. From Al-Quran to technological items. However, there are still those who deliver boring and useless items.
This chocolate delivery is one of the list of deliveries that really make people drool. Handmade, market chocolate and the most famous in the chocolate delivery tray is the Ferrero Rocher delivery.
For brides who want to save money, you can DIY this chocolate composition yourself. You can take inspiration from this article for your own Ferrero Rocher chocolate gift arrangement.
Bouquet Arrangement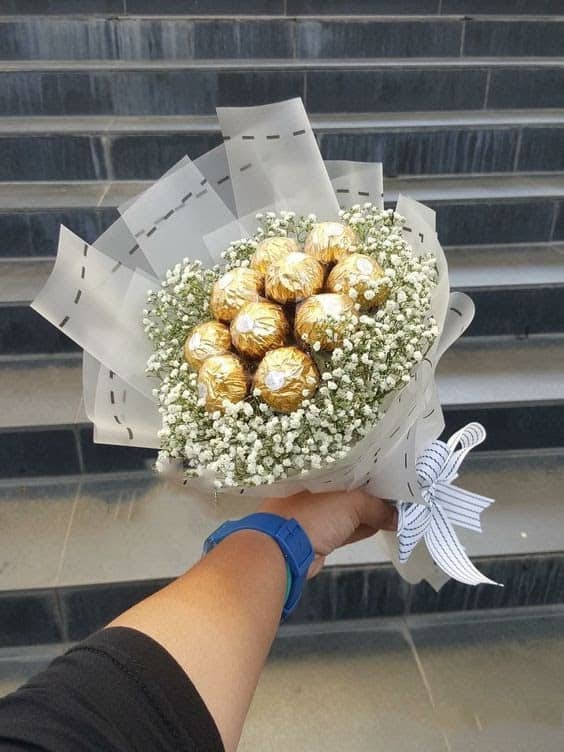 A delivery that is easy to compose but quite difficult to place neatly on your delivery tray due to its shape. It is advisable to tie a ribbon to the bouquet with your delivery tray. Or you can put it in a short box so that it is stable.
For this composition, you must first need material for the bouquet. Bouquet wrapping paper such as mesh paper, crepe paper and clear plastic wrapper are very easy to find.
The Ferrero Rocher that is glued onto the stick then needs to be tied together. To further enhance the flower style, you can use floral wire to tie the chocolate skewers. Add your favorite flowers to highlight the beauty of your delivery arrangement.
Box Delivery Composition
A very simple and quite popular composition for this chocolate delivery. You can arrange Ferrero Rocher one by one or you can also put the original chocolate wrapper and decorate the box.
Choice of box shape and size should be reasonable. The color of the box can be purchased according to the theme of your wedding. You can also consider a patterned box. The type of box you choose does not necessarily have to have a lid.
If you want to be neater, make all your deliveries in the form of a box so that it looks organized.
You can fill the box with chocolate and insert a small flower like baby breath inside the box. Or arrange chocolate with decorations such as fake flowers, pieces of paper and even yarn balls.
Hamper's composition
This hamper arrangement requires clear or patterned plastic wrappers and ribbons and a basket-like base for you to arrange your chocolates. Ribbons do not need to be made into flower shapes, just buy the ready-made ribbons in the market, they are cheaper and save time.
Once you have chosen your hamper base, you also need cork to create a hill effect to your composition. Ball, pyramid and cone shaped corks are perfect for this chocolate hamper.
If you don't want to use cork, you can also get different sizes of ferrero rocher and arrange it on your base. You can also decorate it with mesh paper and colorful flowers.
This tree composition is very rare and special because of the shape and effort that needs to be taken to ensure it is stable. The items that need to be used must be vases, sticks, stabilizers, ball corks, chocolates and ornaments.
Vases You can get the type of iron bucket that can highlight the vintage value in your Ferrero Rocher delivery. The wooden trunk can be painted or decorated with ribbons of your wedding color.
Tree Shaped Composition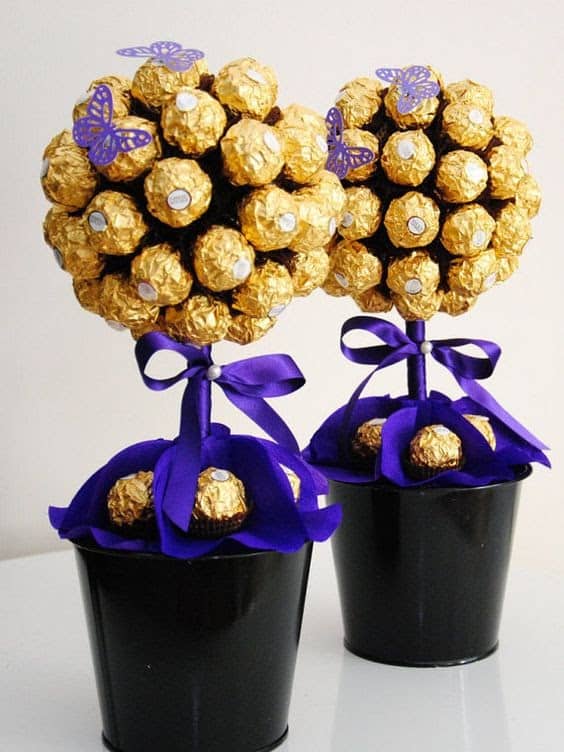 The most important thing is your stabilizer. You can use a hot glue gun or craft glue to attach the sticks to your vase. If you want to be more stable, you can also put concrete mix in your pot.
Basket Composition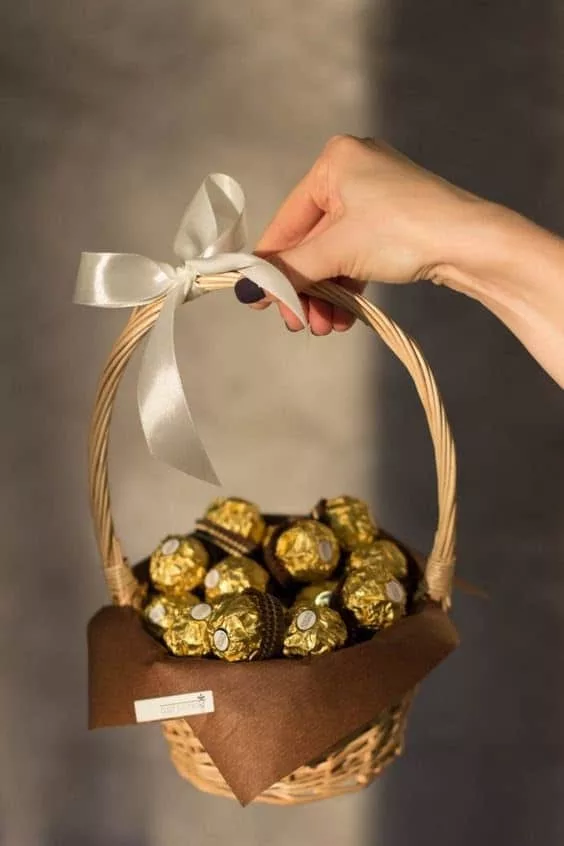 A variety of basket types that you can choose to arrange this Ferrero Rocher composition. You can choose a rattan basket, mengkuang or a more modern one, which is an iron basket.
The arrangements and decorations you need to use are very simple, and can be completed in a short period of time.
Shop for Ferrero Rocher figures that fit your budget. Because this is just one of your delivery trays. You can fill your basket and add ribbons and flowers inside the basket. Or you can decorate it with brown craft paper and big flowers.
Decorations such as large flowers, leaves and even pieces of paper play a role in complementing your basket. So it doesn't look like your basket composition is bare.
Composition of Tree Branches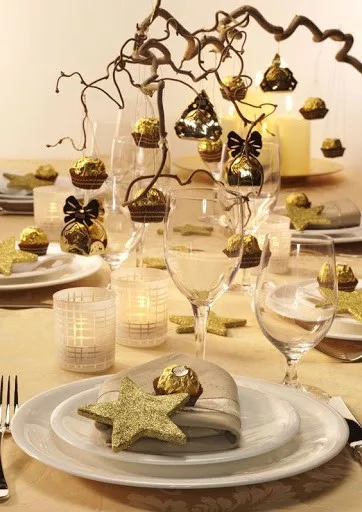 This composition is really beautiful and looks very delicate. Although simple, it looks very exceptional. Ferrero Rocher should be placed in a basket or small bag before hanging it on a tree branch.
No need to worry if you don't have the right basket for your chocolates. You can tape the strap directly to the ferrero Rocher bandage.
The wood rating can be painted according to the color theme of your ceremony or you can keep the rustic value of tree branches.
Wood twigs can be poked into a dry flower sponge and then simply filled in a flower pot. The clear flower vase tied with a ribbon really catches the eye for this Ferrero Rocher delivery.
Tower Shape Composition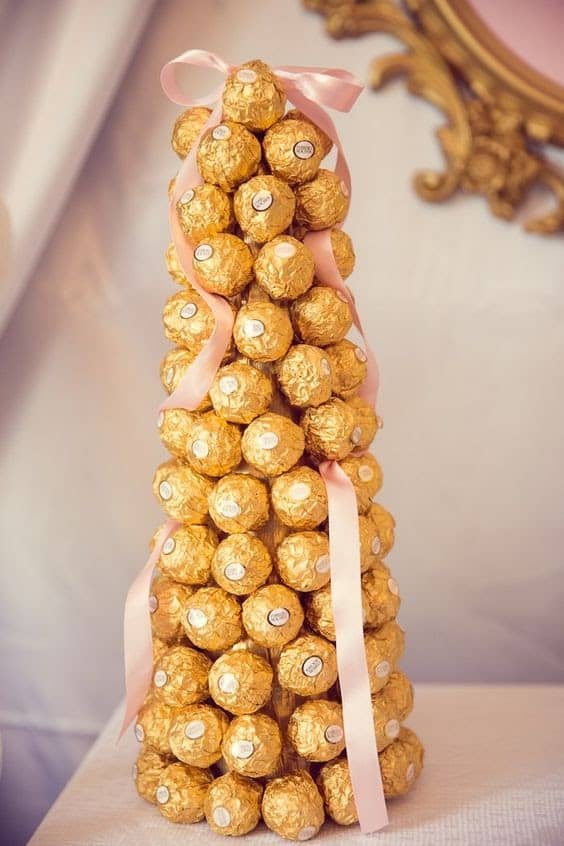 This Ferrero Rocher tower composition is one of the main choices for bridal gift compositions. Apart from being easy to make, it is also very chic.
The use of items such as cone-shaped corks and round corks should be prepared if you want to try to make an arrangement like this.
The cone cork must be used for the tower and the round cork is the base of your tower. If there is a room that cannot be glued with chocolate, you can arrange small flowers to bring your tower closer together.
In addition, you can also get wooden or plastic stand tiers in the market to simplify the work of arranging your tower.
Cake composition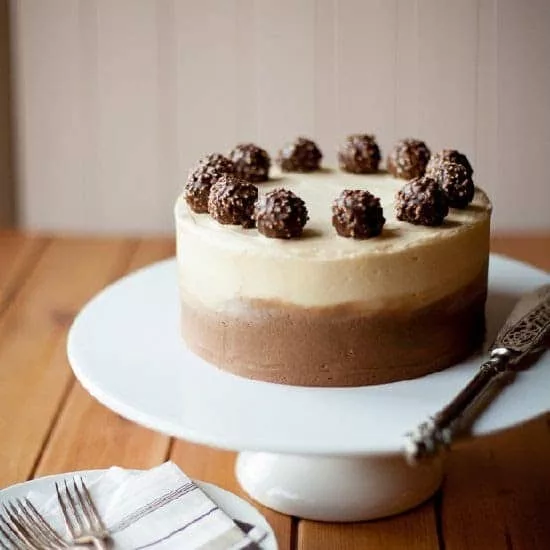 This Ferrero Rocher can also be made into a very delicious and beautiful looking cake. Mousse cake, cheesecake, plain cake decorated with Ferrero Rocher are also very tasty. Or if you want to make a surprise, you can prepare a chocolate flavored cake filled with Ferrero Rocher. Must be special!