Before selecting the style and the design of your wedding dress, what types of dress would be your first selection. In Chinese culture, the traditional red gown would be the best but actually there are several different types of wedding red gown. On the other hand, the brides nowadays would prefer the white wedding dress compared to the traditional dress. If you are confused about the different types of wedding dresses, no worries, we would explain the types of Chinese wedding dresses here by separating them into two categories which are traditional dress and modern dress.
Traditional dress
1. Traditional Qun Kwa
The embroidery is the Qun Kwa's most recognisable feature. The traditional colour of this Chinese wedding dress is red, and it is embroidered with gold and silver thread and various traditional designs. For instance, a lotus flower is frequently found as a symbol of beauty and prosperity, a phoenix and a dragon are frequently seen as signs of a happy marriage, and goldfish or butterflies are found as symbols of good fortune. Furthermore, the A-line skirt of a Qun Kwa would give more flexibility to the brides compared to the traditional cheongsam.
2. Xiu He Fu
Compared to the Qun Kwa, the Xiu He Fu is frequently more daring and unconventional. This is because there are no traditional laws governing the creation of clothes that apply to the design and construction of the Xiu He Fu. Moreover, the Xiu He Fu has less embroidery and a pleated style skirt. As a result, Xiu He Fu is more comfortable to wear than the Qun Kua. Although it is not as gorgeous as Qun Kwa, it is more feminine, shy, gentle and restrained.
3. Wedding Cheongsam (Qipao)
The cheongsam is a classic and form-fitting garment in Chinese fashion, making it the ideal option for your wedding attire. Wedding cheongsams are often floor-length or at least ankle length and come in a wide range of options. For instance, you could choose a more formal fabric, such as silk, brocade, or lace. Besides that, brides frequently choose to add other features, such as phoenix and dragon embroidery, which represent a joyful and successful marriage.
Modern Dress
1. Wedding Dress With Chinese Twist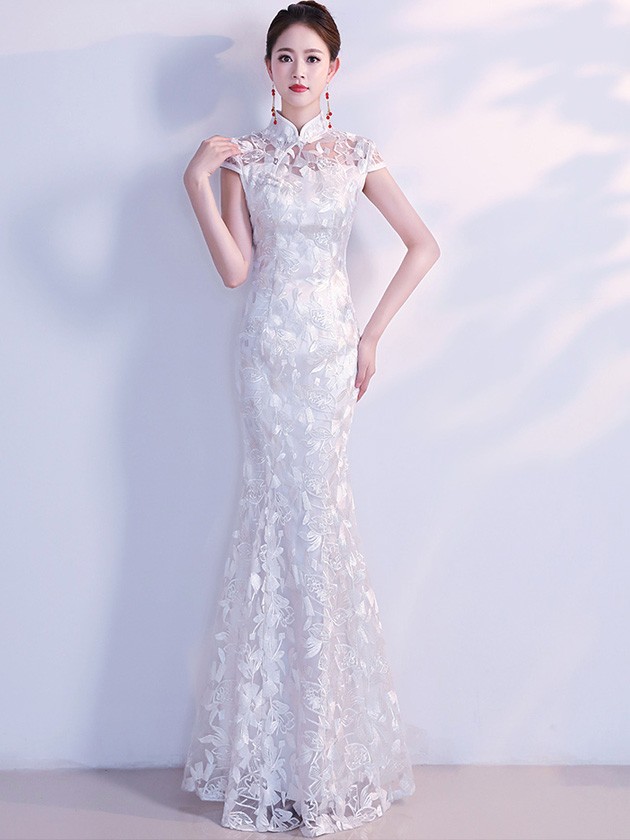 While some brides prefer to wear a different Chinese wedding gown for their tea ceremony or reception, others might prefer to incorporate it into one outfit. Hence, the modern Chinese wedding gowns would be their choices which combine some essential Chinese characteristics with a more Western aesthetic. For instance, a white wedding dress that incorporates the collar of a cheongsam.
2. Red Dress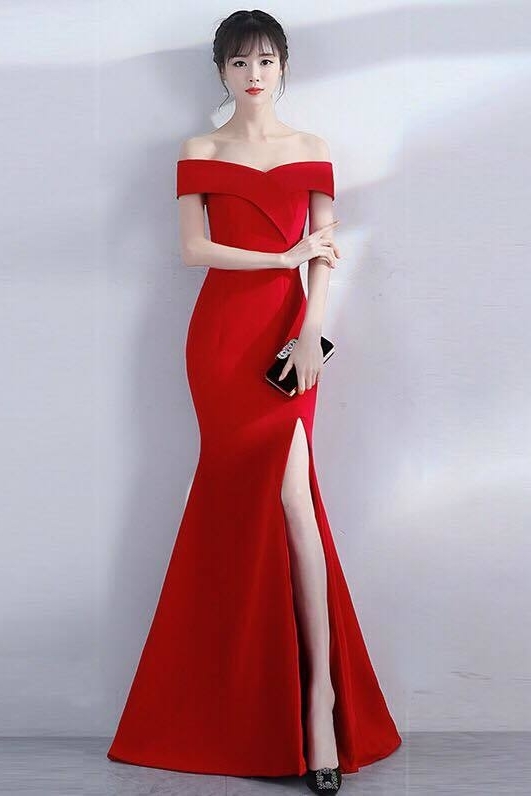 As the red colour is an important element in Chinese weddings, you could just choose a red dress instead of a traditional gown that makes you feel uncomfortable. However, you can still add some traditional features such as phoenix embroidery to your dress to make it more formal as well as honour your culture.
3. White Wedding Dress
In Western countries, white represents purity and virtue. Thus, the brides in Western countries mostly choose the white wedding dresses. As a result, one of the common types of Chinese wedding dresses nowadays would be the white wedding dress. The brides choose the white wedding dresses because it looks beautiful yet romantic as well as trendy. Additionally, there are a lot of different designs that can be chosen by the brides.