In Chinese culture, the bridesmaids are known as 'sisters' (姐妹), whereas the maid of honour is known as the sole 'bridesmaid' (伴娘). Although there are different names, basically they are mainly helping the bride to complete her wedding. So, what is the bridesmaid's job in Chinese wedding?
Accompany bride for try on the wedding dress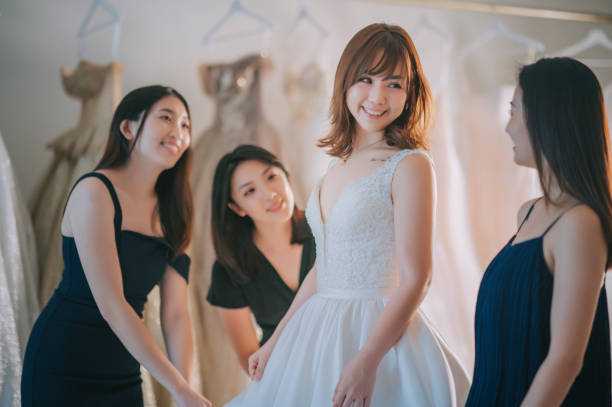 It is a drawn-out process for brides to try on their wedding dress. Thus, it is advisable that bridesmaids should accompany the bride by giving their second perspective and moral support
Plan the bridesmaid attire in advance
It is often a good idea to plan your bridesmaid dresses well in advance, keeping in mind that tailoring, shipping, and shopping could take several weeks. Hence, make sure to order the bridesmaids' dresses as soon as possible if the bride has decided on style.
If you are allowed to choose your own bridesmaid dress, make sure the bride has no problem with it before making a purchase.
Do not differ from her preferences if she has certain style or colour preferences because this is her big day.
Plan the door game
The door game is the gatecrash session when the groom and his groomsmen arrive to pick up the bride. Bridesmaid should plan a list of about six door games but you would not actually be preventing the groom from reaching his bride.
Basically, this session is for bridesmaids to get a 'bribe' by the groom through receiving the red packet.
Help the bride put on her dress
Most of the brides choose to change into other gowns throughout the day. Thus, bridesmaids should help the brides in this matter.
Helps to welcome the guests in the wedding banquet
The bridesmaid's job in Chinese wedding includes welcoming the guests during the wedding banquet as well. Since there will be many guests and both the groom and bride are busy, bridesmaids could help in welcoming the guests and bring them to their table to have their meal.
Preparing food and water
It is normal that both the newlyweds have no time to have their meal and even drink water. Therefore, bridesmaids should bring snacks or biscuits and water along with them so that whenever the bride is hungry or thirsty, they can eat or drink.