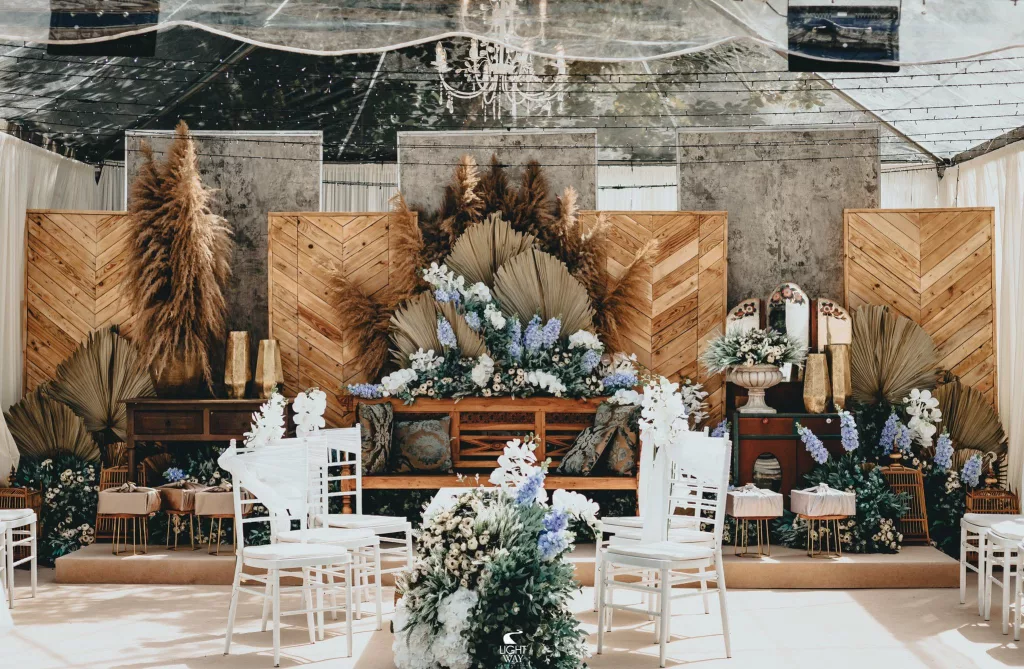 Your wedding ceremony must not be complete without the presence of this dais. Now there are many dais concepts ideas that you can make yourself and also many boutiques that you can choose from to realise your dream dais.
If you are still not sure which one to choose, you can continue reading first.
1. Dais According to Theme Colours Concepts
This type of dais is more important to the aesthetics of the overall colour of the dais as well as decorations that can highlight the colour of your dais concepts.
It is advised that the colours used for this platform do not more than three. Choose the right colour scheme.
Do not order the same colour of the couch as the colour of your wedding dress. It will sink later, you won't see the bride and groom later.
When taking pictures, people don't know the differentiate between dais and the bride.
White Concepts
A classic choice of colour that is still popular with newlyweds. When talking about all this white, it really looks pure and elegant on your dais concepts.
When sitting on the dais, you can see the light on the face of the newlyweds.
If you want to DIY your own dais, it's easy because all the colours are in this white colour.
If you choose white colour from flower decoration, curtain backdrop to the carpet, it still has its own charm.
Pastel Concepts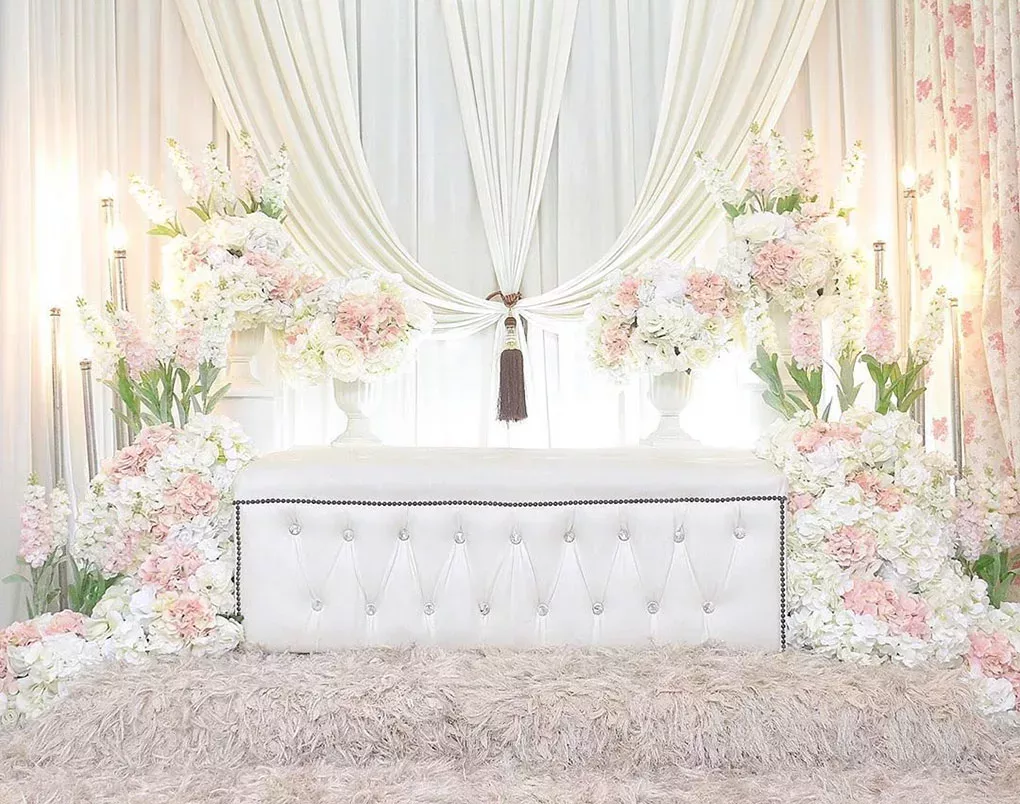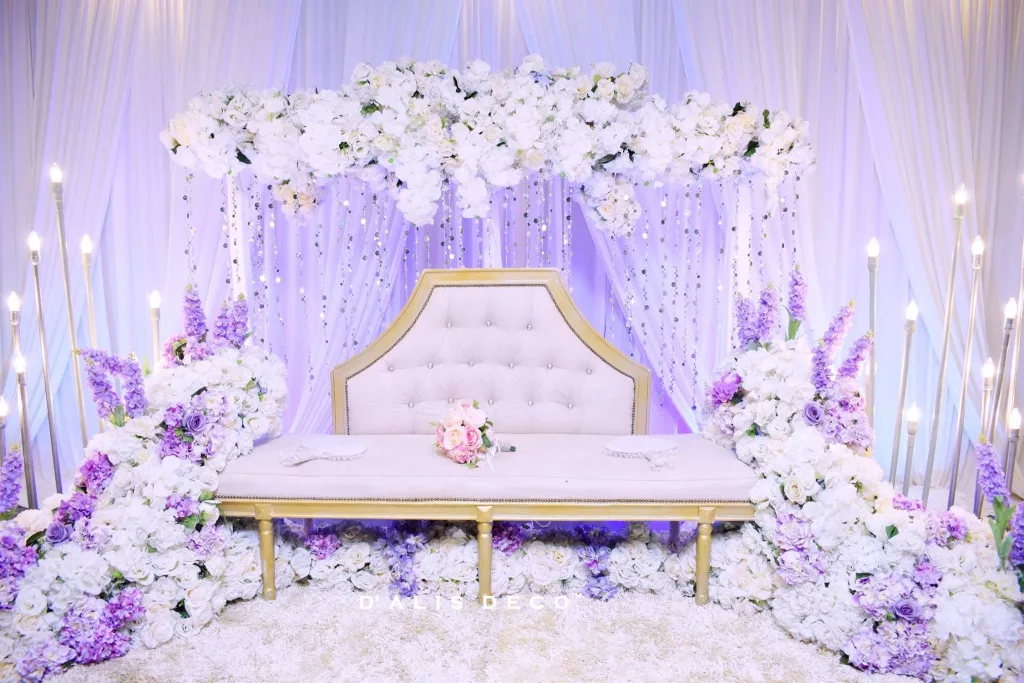 This pastel color is a pale color and is often used to describe a feeling of calm and harmony in something.
In short, this pastel colour is a faded colour compared to the usual colour for dais concepts.
Popular colours are millennial pink, light azure, creamy mint, and whimsy yellow. This pastel colour is quite popular in the selection of bridal dais.
This is because this colour highlights the suspected character and softness in your couch.
2. Backdrop Dais Flowers Concepts
This style dais is quite easy for you to DIY yourself. As long as there are enough hardware and flowers, it will look wow.
Research in advance the flowers and colours that are suitable for your wedding ceremony.
Wall Flowers Concepts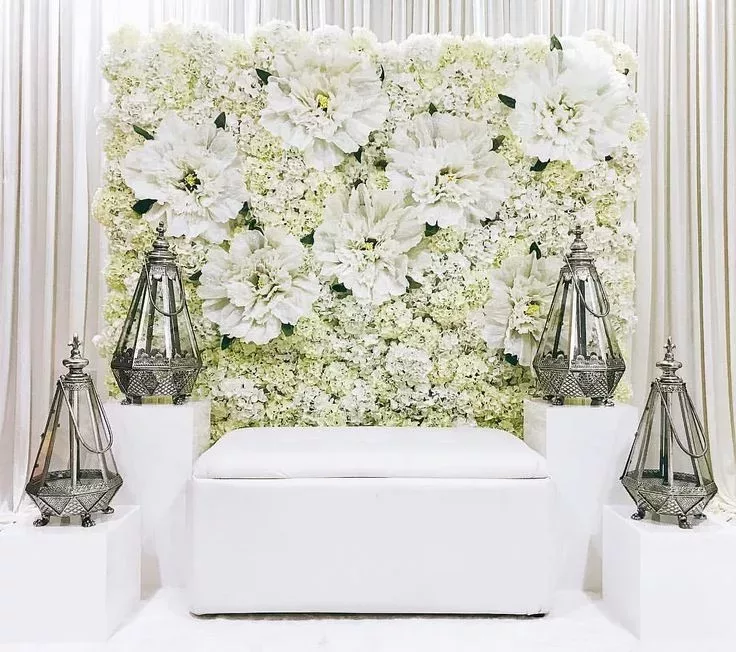 This one is really simple and gives you a minimalist style that is quite enchanting.
You can glue the flowers directly to your wallboard or poke and glue your flowers onto the cork which is then glued to the board.
Another thing, you can also buy ready-made ones but the ones sold in the market do not have colour variations and also they are quite small in size. If you feel diligent, you can compare the price of flowers and their quantity at a flower shop near you.
Flowers Curtain Concepts
This flower arrangement requires props such as a wooden frame or wall board to hang and paste it.
These flowers are then glued together one by one with a string to make it look like a garland.
There are many flower arrangements in the market that are quite beautiful and cheap.
A concept like this is easy to take the heart of the family and guests who come to the wedding later.
The mini sofa is very suitable to be styled with this flower curtain for your dais concepts.
3. Themed Dais Concepts
Choosing a dais that prioritises balance in your wedding ceremony. Maybe you're going for the same theme throughout your event.
Rustic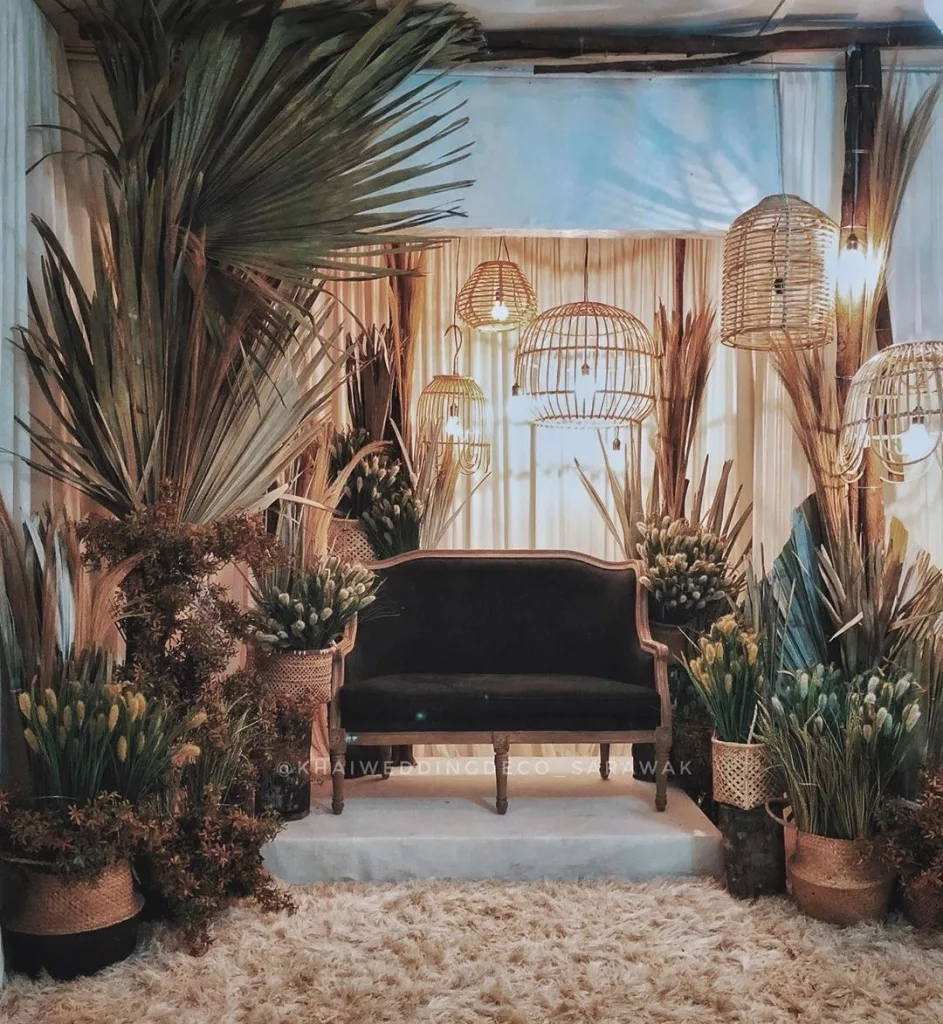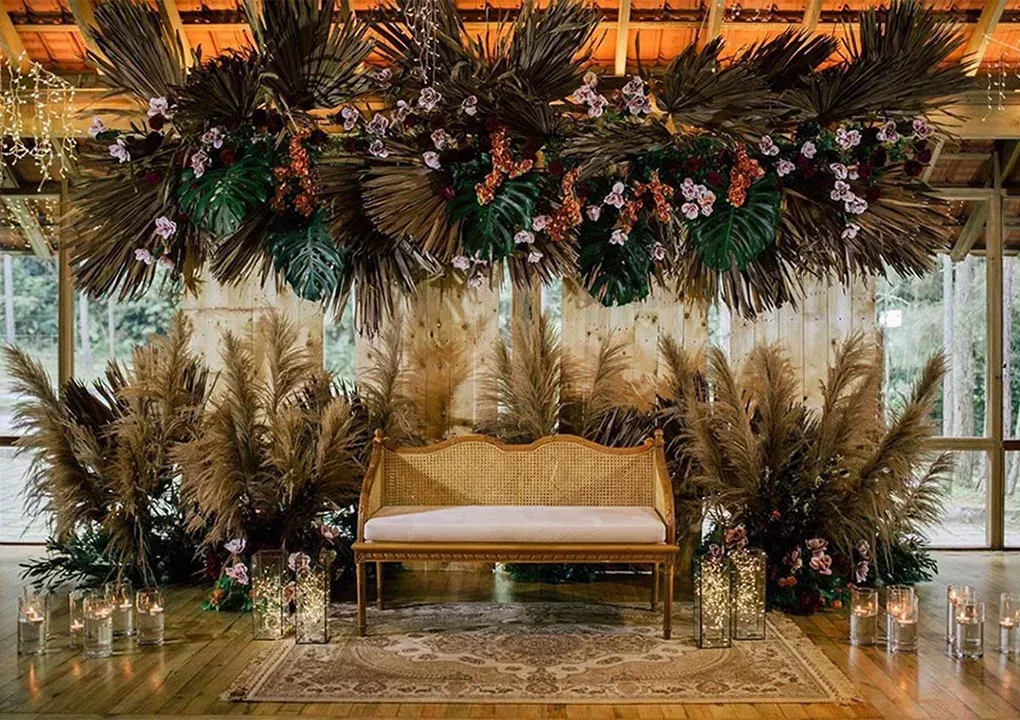 This rustic theme can be said to be like a country or countryside style in the West.
For this dais, usually colours that depict autumn such as brown and orange are often used in the decoration of the dais.
Pampas leaves, fake twigs and rattan chairs are tools that are always available for this kind of theme.
Garden Concepts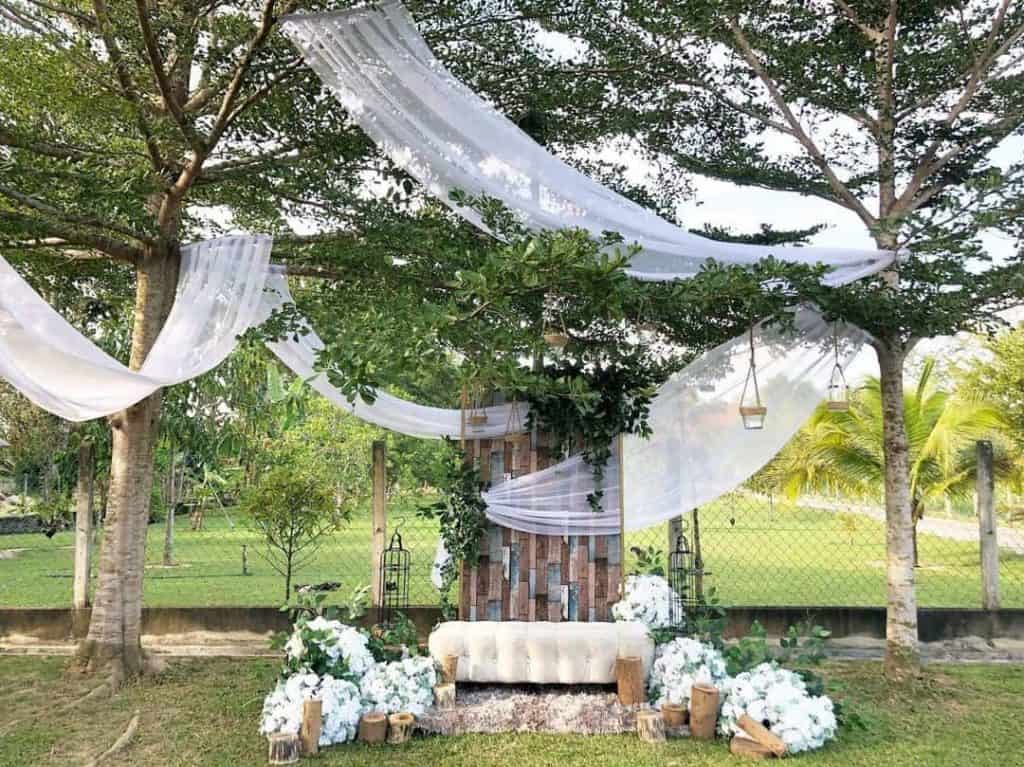 This theme can be held outdoors as well as indoors. For outdoors, fresh fragrant flower decorations alone are sufficient with the presence of green grass at your wedding ceremony location and you dais concepts.
For indoors, flower backdrop decorations and a number of colourful flowers are very suitable for your dais area.
Also add a little vintage element to show the beauty of the dais concepts.
4. Dais Using Props Concepts
Very commonly seen in the use of mini dais. Various types of props can be paired with the platform.
From an arrangement of boards of various sizes, a terrarium composition.
The use of props in your arrangement is stunning!
Wooden Frame Concepts
This wooden frame is also available in various shapes. Usually only square shapes are used, but other geometric shapes are also gaining popularity as a backdrop for this dais.
The wooden frame is usually decorated with flowers, leaves or strings that are fringed to create a minimalist style.
Decorations can't be overloaded. This concept saves the cost of your expenses in the manufacture of this dais.
Flower decorations Concepts
General hardware used in almost all wedding ceremonies in Malaysia. Flower decorations are usually neatly arranged in beautiful vases and used as the main decoration of the people who choose the dais concepts.
Flowers also come in many colours so it's an easy way to coordinate your dais with your dais theme.
But this flower arrangements are usually made by professionals. This is because they know the rules of colour, size and volume that are suitable for your dais.
5. Floral Dais Concepts
Flowers. Flowers everywhere. Nature lovers must love this kind of concept. Usually fake flowers are used when floristry, because they are easier and easier to tidy up.
More practical for your dais. If no one get involved on your flower arrangement, it will not be destroyed.
These floral wreaths for the dais can be made in various sizes. You can find coils in the market or you can make them using kraft wire.
Next wrap the floral tape around your flower loop for your dais concepts.
A small flower loop can be hung on your backdrop curtain while a large one can be used as your backdrop directly.
Foliage will be inserted into the flower loop so that it looks neutral.
6. Mini Couch Concepts
For those who are interested in the concept of minimalism and also who want to save costs, you can research a little more about this mini dais concepts.
This mini dais is also easy to DIY yourself. There is no need to make a reservation for your dais.
The sofa that is used is usually the one that is already there, you just need to add decorations to make it beautiful.